'Slow trains' linking villagers to outside world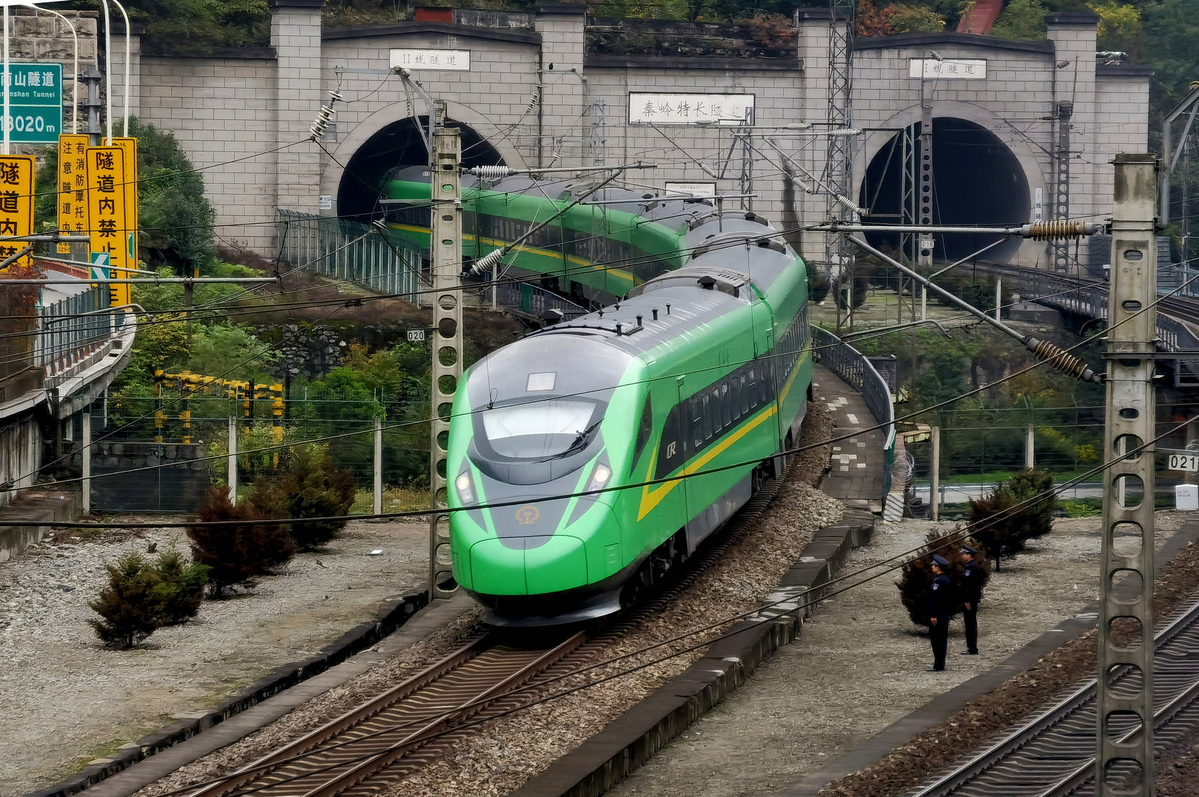 A train from Ankang to Xi'an leaves a tunnel in the Qinling Mountains in Shaanxi province. ZHAO HUABIN/XINHUA
XI'AN-Although China has entered a high-speed railway era, there still exist "slow trains" in several less-developed areas. Such trains provide villagers with a track to the outside world and prosperity.
When train No 6064 stopped in Yangpingguan station, 51-year-old Xue Qing'e was trying to board with 30 kilograms of vegetables on her back.
Xue was relieved to receive help from a conductor as she felt she was being pulled backward by the heavy bamboo basket. She took her seat, panting and gasping for breath.
This is an ordinary journey for Xue and many villagers from Yangpingguan, a township in Hanzhong, Shaanxi province. They take the train to sell their vegetables in nearby counties to add to their families' income.
With a length of 257 kilometers, the highly popular "small-and-slow train" route winds through the Qinling Mountains, a natural boundary between China's north and south, linking 37 stations at a cost of 21.5 yuan ($3.30).
For greengrocer villagers living along the line, the railway is their preferred choice as it is more convenient and comfortable. "After deducting the 6 yuan round-trip fare and the 6 yuan lunch fee, I can earn 40 to 50 yuan after selling the basket of vegetables," Xue said.
When she isn't tilling about 0.13 hectares of farmland or caring for her sick mother, Xue spends about 90 minutes a day on the train, traveling to sell vegetables and earning more than 10,000 yuan a year. Over the years, she and her husband worked hard to put their son through college and build a new, two-story house.
"I have been striving for a better life for decades, and I want to strive further," she said. "Because the harder you work, the happier you are."
For villagers from townships along the railway route, the slow train service offered fresh opportunities to make a fortune.
Zhang Weiming, 46, works in Beijing as a subway construction worker and earns 5,000 to 6,000 yuan per month. After returning to his hometown in Shaanxi in December, he hardly had a break before he had to start selling his vegetables using the train route.
"I can make over 300 yuan with these vegetables," Zhang said, referring to his bamboo basket loaded with 50 kg of ginger and other produce he held in his hands.
The route doesn't make a lot of money, but the railway operator keeps it running and offers various services to meet villagers' travel needs, said Wang Jianlin, who works for the China Railway Xi'an Group.
Some temporary bazaars are established in carriages to help villagers trade agricultural products, while mobile libraries are also emerging for children who commute to and from school on the trains, with various books prepared on modified tables that are longer and wider than the usual ones.
The train whistled as it arrived at Lueyang station, and Xue got off carrying her bamboo basket.
Source: https://global.chinadaily.com.cn/a/202103/01/WS603c3c86a31024ad0baaba97.html