Penyetaraan ijazah perguruan tinggi China di KBRI Beijing dipersingkat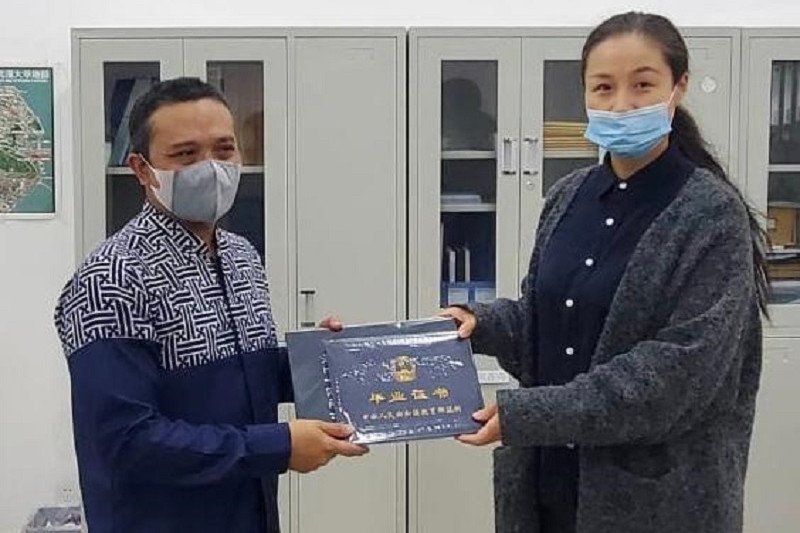 Dokumentasi - Atase Pendidikan dan Kebudayaan KBRI Beijing Yaya Sutarya (kiri) menerima ijazah salah satu lulusan perguruan tinggi di Wuhan, China, asal Indonesia. ANTARA/M. Irfan Ilmie.
Beijing (ANTARA) - Pelayanan penyetaraan ijazah para lulusan perguruan tinggi di China melalui Kedutaan Besar RI di Beijing dipersingkat dari lima hari kerja menjadi hanya dua hari kerja seja aplikasi Sistem Informasi Layanan Online Bidang Pendidikan (SIPONI) diterapkan.
"Selain lebih cepat dan akurat, SIPONI juga bisa menghindari risiko kerusakan dokumen karena dimakan usia," kata Atase Pendidikan, Kebudayaan, Riset, dan Teknologi KBRI Beijing Yaya Sutarya, Kamis.
Aplikasi itu, jelas dia, juga mengurangi risiko kepindahan dokumen ke folder yang tidak semestinya, atau bahkan hilang, karena telah tersimpan secara digital.
Prosedur penyetaraan ijazah luar negeri bagi pelajar Indonesia di China dilaksanakan melalui tiga tahap.
Tahap pertama melalui China Academic Degree and Graduate Education Development Center (CDGDC) untuk jenjang sarjana, magister, dan doktor.
Sementara untuk Diploma (D1, D2, D3 dan D4), jenjang itu melalui China Higher Education Student Information and Career Center (CHESICC).
Tahap kedua melalui Kantor Atdikbud Ristek di KBRI Beijing yang dilanjutkan dengan tahap akhir di Direktorat Jenderal Pendidikan Tinggi, Kementerian Pendidikan, Kebudayaan, Riset, dan Teknologi RI.
Duta Besar RI untuk China Djauhari Oratmangun mengapresiasi penerapan SIPONI tersebut.
"Tentunya aplikasi ini sangat bermanfaat bagi para mahasiswa kita di Tiongkok," ujarnya.
Di China terdapat 15.760 pelajar Indonesia. Jumlah itu bertambah sebanyak 1.420 orang pada 2020, baik melalui jalur beasiswa maupun mandiri.
Setiap tahun, terdapat 1.200 pelajar Indonesia yang lulus dari sejumlah perguruan tinggi di China.
Mereka diwajibkan melakukan penyetaraan ijazah agar bisa diakui di Indonesia.
Source: https://www.antaranews.com/berita/2177750/penyetaraan-ijazah-perguruan-tinggi-china-di-kbri-beijing-dipersingkat